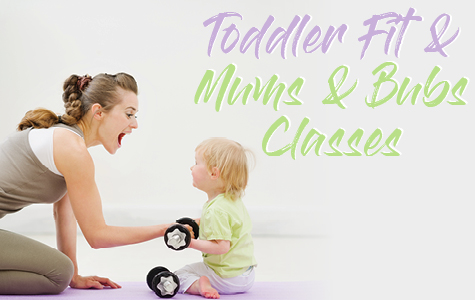 Toddler Fit
It's time to get active with your energetic toddler! If you are a parent come along to this class designed to encourage with your child through exercise. We will explore many different activities together, learning and having fun at the same time. Let us help you set the foundations for a healthy future for your child.
Who is welcome: Parents and their toddlers (2-4 years)
When: Friday's 9.10am – 9.40am
How Much? Toddler fit is included in all Health Mates memberships, including casual memberships. Please visit or phone us for more information.
We also hold Mums and Bubs classes for babies 6 months – 2 years.
Mums & Bubs
Bounce back into shape with your bub.
These classes are a great way to bond with your baby while getting your mind and body active, plus make friends with other new Mums and Dads.
Tuesdays and Thursdays
11:15am – 12:00pm
Baby age: 6 Weeks to 2 Years
We recommend you get the all clear from your doctor prior to starting exercise after giving birth. This is usually around the 6 week mark.
Get Your First Visit Free!
Contact Us On 8707 6930 or Email Us here for more information regarding your first FREE visit to Mum's & Bubs.