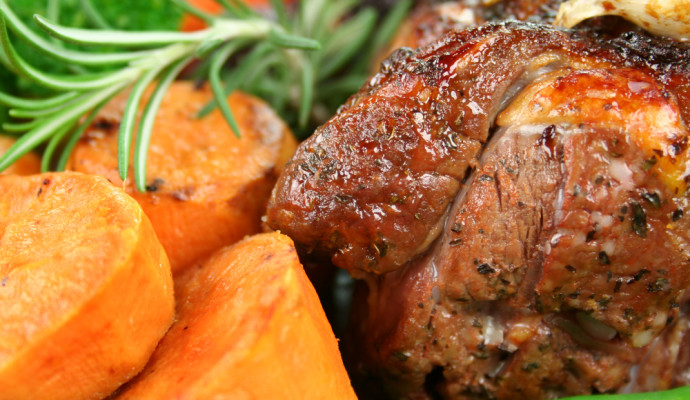 MARINATED BAKED LAMB WITH SWEET POTATO MASH
SERVES 2
Ingredients
4 Lamb loin chops
3 cloves of garlic
2 sprigs of rosemary
Olive oil
1 sweet potato
Mixed vegetables
Method
1. Preheat oven at approximately 200 degrees
2. Lightly coat a baking tray with olive oil. Place lamb into tray and cover with crushed garlic and rosemary
3. Place lamb in the oven until cooked right through. Approximately 30-40 mins.
4. Whilst the Lamb is cooking. Steam vegetables in a steamer until tender but slightly crunchy.
5. Also bring a pot of water to the boil. Once boiled add sweet potato and cook until soft. I usually cook it in the microwave as it only takes 5-7 mins if you cut the sweet potato quite small.
6. Once sweet potato is soft. Drain and mash. Add a little bit of salt for taste if required.
7. Combine lamb, sweet potato mash and mixed vegetables to a plate to serve.
Recipe by Raquel Sbrana – Personal Training Coordinator