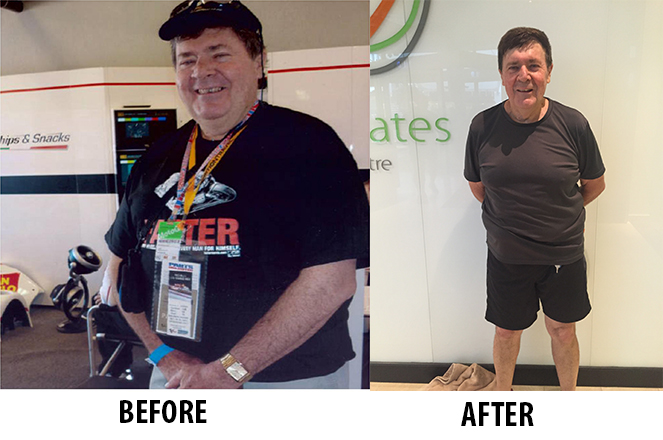 Barry Settree sheds 15kgs in 6 months
How long have you been a member of Health Mates?
I have been a member of Health Mates since July of 2015.
What inspired you to join Health Mates?
My weight was getting out of hand and I needed to do something about it. I used to consider a walk down to the local coffee shop to be good exercise, but knew I needed to change my lifestyle to be able to get my weight under control. As a member of the Club, I thought joining Health Mates was the best decision for my health.
What have you participated in at Health Mates?
I've participated in a variety of things. I try to join in as many group exercise classes as I can; so far I've tried everything from Zumba to Rev. I've also taken advantage of the gym floor programming service and have had several comprehensive programs incorporating different types of cardio and weight lifting.
What have you achieved so far and how has it changed your life?
Most noticeably has been my weight loss over the past six months. I've dropped 15kg and I am wearing clothes that I have not been able to fit into for many years. Aside from the weight loss, my fitness and quality of life has also improved greatly; I can go for a walk without getting tired and my flexibility is up. So is my confidence; it's a really great feeling when your friends notice your weight loss and remark on your efforts.
What are your goals for the future?
My number one goal would be to keep off the weight I've lost so far, and continue with my weight loss journey. Moreover, my focus is going to be on staying healthy and fitter into the future. I'm also following up my efforts with a dietitian, as I've found diet control has been very important for me to keep my weight under control.
What advice can you give someone else who is looking to embark on the same journey?
Focus on your journey, but also enjoy your time exercising. Have a friend to exercise with and someone who can join in on classes with you. Listen to the instructors advice and never, ever give up!
If you'd like to nominate our next Member of the Month email your suggestion to raquels@rwc.org.au
There is no guarantee that physical exercise will achieve specific outcomes. Results will vary depending on personal commitment, genetics, nutrition and lifestyle factors.