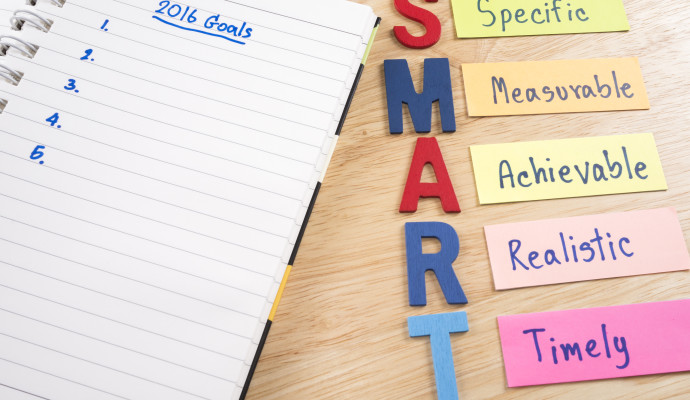 How to make a smart goals?
It's that time of the year when we start to think of all the different promises and resolutions we are going to commit to in the new coming year; to find a new job, spend more time with the family, get yourself back into that REV class you've been slacking off on over the Christmas period. But we all know it can be difficult to stick to these New Year's goals, which can be a huge disappointment! So how do you come out on top this year and achieve that goal you set out for? Answer: Make it a SMART goal!
SMART goal stands for: Specific, Measurable, Achievable, Realistic and Time-specific. If you plan your goal to incorporate all these factors (and write it down!) then you are more likely to achieve the goal you have set out for. Don't forget to tell a friend or loved one so that they can check in on you and make sure you're sticking to your goal!
Here is an example of a SMART goal, and the breakdown of why it is SMART: By the 1st of June, I will have lost 8% of my body fat percentage by attending Personal Training once a week, Tuesday morning REV classes, and limiting my take-away to once a fortnight. I will check my progress of this by getting a fitness appraisal at Health Mates every 6-8 weeks.
This goal is Specific: it details exactly HOW this person is going to reach their goal through personal training, group exercise classes and limiting take-away foods.
It is Measurable: This person has chosen 8% of their body fat as it is a more reliable, as their goal is to lose fat not muscle! Ask us how we can measure this for you! If you can measure it you know exactly when you have reached your goal, and see your progress along the way = motivation.
Achievable & Realistic: that is, it can be done and it fits with you! This person has asked their trainer or gym floor staff what is an achievable and healthy time frame and body fat percent to lose. It also fits in with their lifestyle, economic situation, home and work commitments and what they like doing. Make your goal match your life, not the Kardashian's!
Time-specific: This goal has a deadline the 1st of June! It is written in this imaginary person's diary in big red pen like any other important event along, with their training days. If it's a big goal you might want to split it into stages and write down those deadlines in your diary as well for example; by the 1st of February I will limit my take away dinners to twice a week… or … by the last week of each month I will find 3 new healthy dinner recipes to replace my take-away meals. Having a plan means you don't have to think when you're stressed or tired, meaning it is less likely to give in.
Remember once you reach a goal – give yourself a big high five and then start planning your next one (don't wait until the next New Year!) Don't be disheartened if you reach a slump – go over your goal again and see if there is anything you need to adjust or compensate for, then keep going. One foot in front of the other!
WIN a 30 Minute Massage at 360 Physio valued at $47.

Answer 5 True or False questions and place your completed quiz in our feedback box by 26 January 2016 for your chance to win.