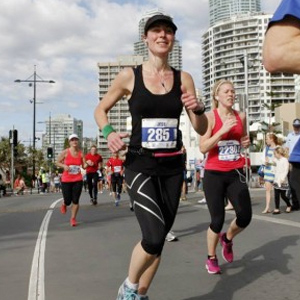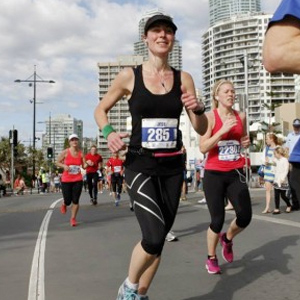 NAME: Jessica Hutchinson
MEMBER SINCE: July 2011
ACHIEVEMENTS: Completing Tough Mudder and the Gold Coast Marathon
GOAL: To run a half-marathon in every Australian capital city.
TYPES OF TRAINING: running, swimming, gym classes, weights and walking.
TIP: "Anything is possible as long s you believe you can do it and put in the hard work."
Meet our January Member of the Month, Jessica Hutchison, and be inspired to set goals and go for them!
How long have you been a member of Health Mates?
I joined Health Mates in July 2011.
How many sessions a week would you do in a normal week? What does your training schedule consist of?
In terms of training at Health Mates gym, I train pretty much every weekday morning. I am also a member of a running group with my work colleagues and we regularly have events and training sessions during lunchtimes. On the weekends I enjoy the Saturday Rev GTB and Master Blast classes or quite often head to the beach for a run with my gym buddies. It is rare for me to have a rest day. Having said that I do throw in some 'easy' days where I will do an activity which has less impact on my joints, such as swimming or a long walk.
My training schedule is varied and consists of a mix of running, swimming, gym classes, weights and walking. I love running so the majority of my training is running related, such as endurance runs, interval runs and tempo runs.
Thinking back to when you first started with us, what was your fitness level like?
I remember the time well as I joined Health Mates two days after returning from a two month trip around Europe. At the time of joining I was not very fit and carried quite a few extra kilos due to an unhealthy lifestyle consisting of too much partying and a lack of exercise.
I knew it was time to make a change by overhauling my bad diet and exercise habits. Since taking that first step of becoming a Health Mates member, and completing the Weight Loss Challenge in 2012, I haven't looked back.
Many would see you as an inspiration with the goals that you have achieved, what was the moment that made you go from a gym goer to achieving such goals?
In my mid 20s I had a pretty tough and life changing experience to confront. When I came out the other end better for it, I realised I could pretty much do anything I set my mind to. Four years ago I couldn't jog a block without having to stop and I remember thinking that running 5kms straight would be impossible. As I proved myself wrong and achieved each milestone, I couldn't be stopped – 5kms turned into 10kms, until I worked my way up to a marathon (42.2kms).
Anything is possible as long as you believe you can do it and put in the hard work.
What would you say some of your ultimate achievements to date are?
Travelling through Europe on my own – boarding the plane was very daunting and scary. However, it turned out to be one of the best things I have ever done. It bought me out of my comfort zone and opened my eyes up to the world.
Completing Tough Mudder and the Gold Coast Marathon – these events took a lot of training and commitment and were very challenging mentally. Ticking them off my bucket list was very rewarding.
Jumping out of an aeroplane at 15,000 feet – I am petrified of heights and it was torture on the way up in the plane. But the experience was absolutely amazing and exhilarating. I plan to do it again with my fiancé, Paul, so he can tick it off his bucket list also.
How did you feel after completing your first Marathon? Would you go back again?
The Gold Coast Marathon stands out as being one of the hardest things I have done to date. I experienced a lot of mixed emotions when I crossed the finish line. I was happy and overwhelmed to have finished but also a little sad because I didn't achieve the time I was hoping for. Over time I realised that this was definitely not a failure and I can learn from the experience so that next time I know what to do to achieve my goal time.
The training took a lot of time and effort. I was running most days and Saturday's consisted of a long run of up to 4 hours. After I crossed the finish line I was very emotional and fell to the ground in tears. Paul was there to pick me up and put back the pieces, so to speak. I am very lucky to have met someone so supportive and encouraging. There were times when I felt like turning off the alarm and going back to sleep, especially in winter when it was 2 degrees, dark and rainy outside. But Paul was always very encouraging and supportive by gently reminding me of my motivations and end goal; he would often head out with me, even though he isn't a big fan of running, just to give me company and make it easier to tolerate the conditions.
When I finished the marathon I said to myself I would never do another one. But with time, my love for running returned and completing another one is something I wouldn't totally rule out. It won't be for a few years though, I have a few other areas to focus on over the next couple of years.
Where to now Jess? What is the next goal on the calendar?
In terms of fitness goals, I aim to run a half marathon in every Australian state/capital. I have ticked off Sydney, Canberra, Queensland and Tasmania so far. This year I aim to complete one in Western Australia and South Australia. I might also do a few mud runs and a triathlon to keep things interesting and have something fun to train for.
On a personal front, 2014 will be an exciting year for Paul and I as we have our wedding and honeymoon to organise. I am also very much looking forward to buying and setting up our own home.
Many reading this will be unsure how to start, what tips would you give them to goal set as well as you do?
Set yourself a realistic and achievable goal and write it down. Keep the goal somewhere you will see it on a daily basis to remind yourself.
Surround yourself with positive and like-minded people who will support you and motivate you with your goals. I have met many wonderful and supportive friends through Health Mates and they have all played a massive part in helping me achieve my goals.
Don't ever let anyone tell you can't do something. There are always going to be negative people, who might unintentionally or intentionally, try to dissuade you from your goals. Use this as more inspiration and motivation to achieve them!
There are going to be days when it is a struggle to tie up your shoelaces. There will also be days when you can't stop yourself from eating that quarter pounder or block of chocolate. It is ok to have these days, as long as the next day you remind yourself of your goals and get back on track.
And remember to have fun. Try to find an activity you enjoy and people you enjoy being around and mix the two together; such as a run on the beach with your friends followed by brekkie – my favourite way to start a Saturday or Sunday morning.
Jessica is our January 2014 Member of the Month.
There is no guarantee that physical exercise will achieve specific outcomes. Results will vary depending on personal commitment, genetics, nutrition and lifestyle factors.
Read more member testimonials here