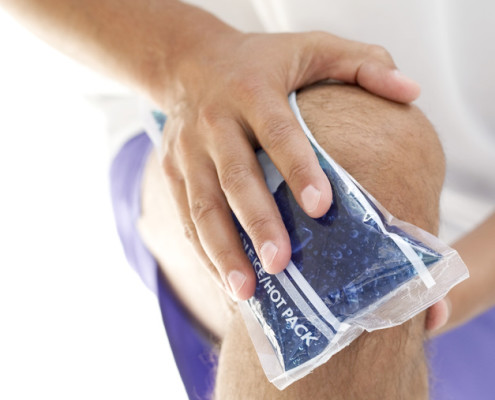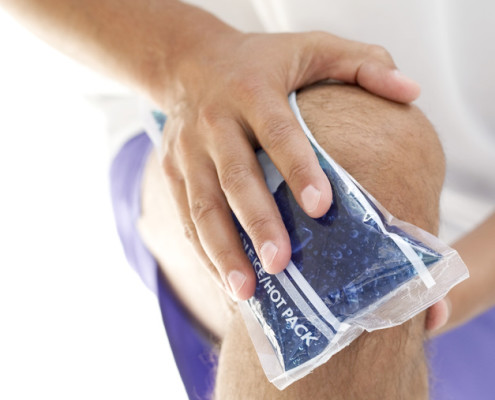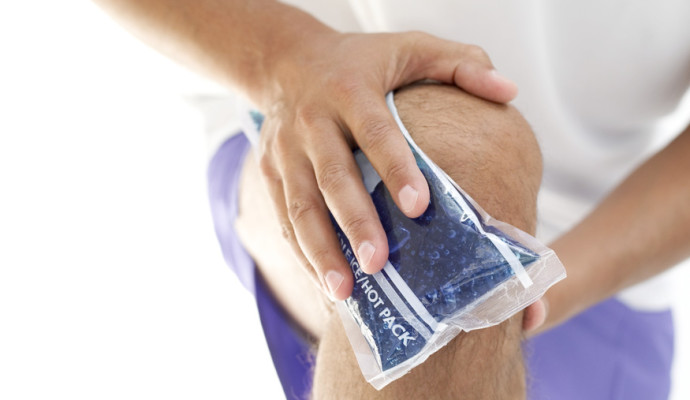 I am often asked by my patients "When should I use ice and when should I use heat?" In this month's post I will explain when and how to use both modalities.
Following a sprain or strain, collagen fibres and blood vessels are damaged. This bleeding produces the bruising which is commonly seen in a sprained ankle or torn hamstring. If enough collagen and blood vessels are damaged, swelling appears almost immediately. A large amount of swelling appearing within the first hour after an injury is a sign of excessive bleeding and a more serious injury. In a less severe injury, swelling develops gradually and it is often not noticed until the day after the injury. This swelling is related to an increase in inflammation in the surrounding area. When body tissue is damaged, chemicals are released which attract white blood cells to the area to clean up the damage. These chemicals also make the blood vessels leak fluid and cause the nerve endings in the surrounding area to become hypersensitive which leads to pain.
HOW DOES ICE FIT INTO THIS CHEMICAL EQUATION?
If we want to minimise the swelling we need to slow down the blood flow to the area. This is when ice becomes extremely important. Ice causes a closing down of the blood vessels (vasoconstriction). Ice also decreases firing of the damaged nerve endings which leads to decreases in pain. Ice is therefore used when you want to minimize swelling and inflammation following an acute injury. Inflammation is most significant in the first 72 hours after an injury so it is important to always use ice in this time period. The use of heat in this early period will cause an increase in blood flow to the area (vasodilation) and a worsening of your symptoms. In our practice, I advocate continuing to use ice for 6 weeks after a traumatic injury.
WHEN IS HEAT A GOOD IDEA?
The physical benefit of applying heat on the body is the widening (vasodilation) of the blood vessels. This helps by reducing muscular tension, reducing pain, reducing joints stiffness and improving soft tissue elasticity. Heat is therefore best used for treating:
Muscle spasms – promotes soft tissue relaxation, reduces muscle tension and pain
Joint aches and stiffness – promotes mobility in stiff joints and reduces pain associated with conditions such as arthritis
Pre-sport – promotes warming up of muscles, ligaments, tendons and joints to reduce the likelihood of sports related injuries
HOW ABOUT THOSE LOTIONS YOU RUB ON FOR HEAT OR COLD?
These do not change the temperature of the tissue under the skin and therefore do not replace the use of ice or heat. These lotions stimulate nerve endings on the skin and can temporarily decrease pain.
QUICK RULES TO REMEMBER
Ice
In the first 72 hours always use ice, never heat.
Continue using ice as the injury heals whenever you have signs of inflammation (swelling, heat, redness, pain).
Apply ice for 15-20 minutes at a time. It can be repeated every hour in the acute stages.
Always have a thin layer of cloth or paper towel between your skin and the ice
Heat
Use heat before activity to help "warm-up" and get ready for movement.
Use heat to make joints and muscle more flexible and easier to stretch.
Use heat for arthritis and associated feelings of stiffness
Apply heat for 20-30 minutes and check your skin frequently for any signs of burning.

Revesby Physiotherapy has been established for more than 25 years and provides the local area with a high level of expertise in the assessment and treatment of musculoskeletal injuries.
Healthmates members receive a discount on treatment – phone them today on 9772 2586 and organise your free initial assessment.