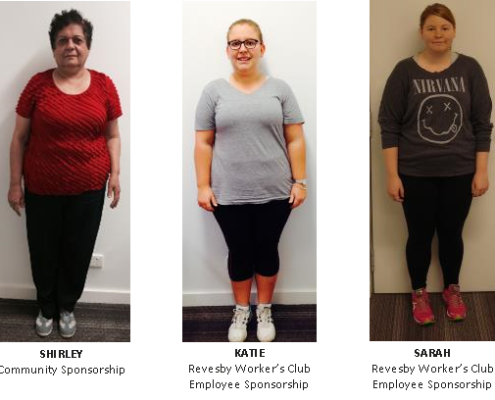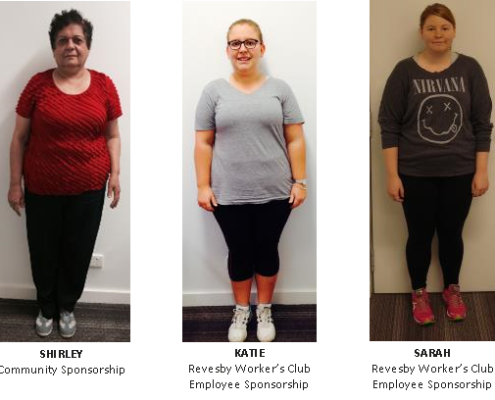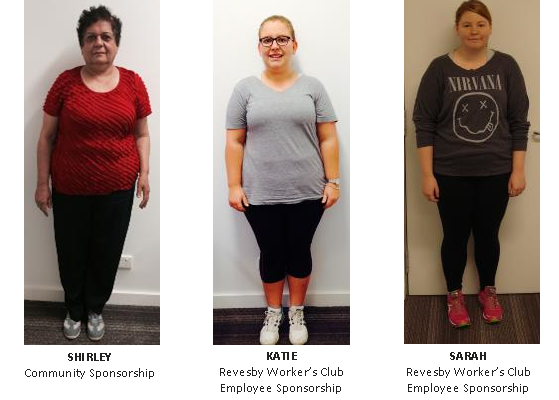 We are very pleased to announce our 2014 Weight Loss Challenge sponsorship recipients.

SHIRLEY
Community Sponsorship Recipient
Shirley is a breast cancer survivor who now suffers from diabetes, sleep apnoea and osteopaenia. With all of her conditions there has been one resounding piece of advice from her doctors – to lose weight. She hopes that losing weight will help her overcome these hurdles, start to feel more positive and help her become a more active member of society.
"I have tried on a number of occasions to lose weight on my own but have come to the realisation that I need help and support if I am to succeed."

KATIE
Revesby Workers' Club Employee Sponsorship
After a near death experience 3.5 years ago that left her having to learn to walk again, Kate lost a bit of confidence and gained 30kg.
"I believe I need this kick in the backside to change my life. Extremely excited to work hard to prove myself that I can do this!"

SARAH
Revesby Workers' Club Employee Sponsorship
Sarah was finding it difficult juggling work, full-time study and trying to take care of her wellbeing. She's put her own health on the back-burner while she studies to look after other people's as a nurse.
"I'd like to be healthier so I can be more effective and better encourage others to look after their health."
Each have won Challenge Packs worth in excess of $1000 including:
Weight Loss Challenge Entry
3 Months Membership
10 x 1 Hour Personal Training Sessions
60 Minute Dietitian Consult
We wish all 58 entrants success in their weight loss journey. The winners will be announced 28 November; we look forward to seeing everyone's transformations.
Good luck!
If you'd like to nominate our next Member of the Month email your suggestion to raquels@rwc.org.au
There is no guarantee that physical exercise will achieve specific outcomes. Results will vary depending on personal commitment, genetics, nutrition and lifestyle factors.