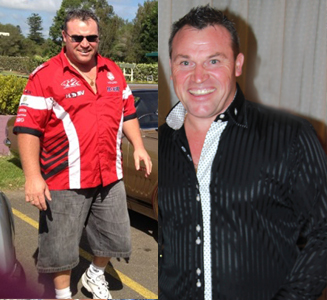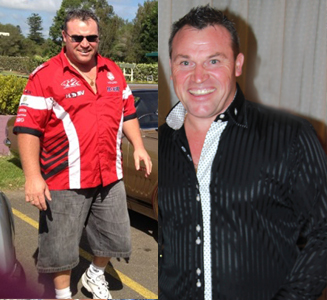 Demonstrating that Heath Mates has the potential to change people's lives – 93 people lost a grand total of 366kg in just 12 weeks by participating in the Weight Loss Challenge, which ran from 27 August – 18 November 2012.
We have all been inspired by their dedication and commitment. We sat down to chat with some of our high achievers about how far they have come and learn more about their experiences.
Winner Davin Sparks lost 22.9kgs. That's a total of 20% of his total body weight!
DAVIN SPARKS
Overall winner
Won a $1,500 Coles Myer gift card and a new lease on life
After getting sick and tired of dealing with constant injuries due to his weight, Davin decided enough was enough and that it was time for a change.
"When my physio gave me the all clear after my knee injury, it was time to pull my finger out, get real and get back in to the gym. I saw the Health Mates 12 Week Weight Loss Challenge posters and signed up straight away."
Davin spoke of a serious blood clot he'd had which became a mental brick wall for him, for more than a decade… the Challenge enabled him to smash down that wall for good.
He raved about the "legend trainers who were in my corner the whole way – Cody at the start, and then Raquel who smashed me right up to the end. Cody's diet plan made me more determined to fight, not only for me but also for my trainers. Doing my best was my way of thanking them for bringing out the best in me."
"I'd say to anyone who's thinking about doing the Challenge when it next comes around – 'Go for it! Don't think, just do it! I am living proof, it can be done!'"
Kerry lost 16.80kgs. That's a total of 19% of her total body weight!
KERRY ARMOUR
Runner-up
Won a new iPad and a new-found love for exercise
The 12 Week Weight Challenge inspired Kerry to visit the gym for the first time. Kerry wanted to try something new and lose weight at the same time.
She particularly enjoyed personal training with a group. "It was hard at times but it was fun and there was lots of variety each week. The seminars and weekly tips were also really informative and helpful."
Kerry is looking and feeling better than ever before. "I am enjoying the cardio and resistance training and I actually look forward to going to the gym, now!"
When asked what advice she would give to those keen to take part in the Challenge – she had these words of wisdom: "Always put the challenge and training as a priority. It will get easier as the weeks go by. Push yourself; you can always put more effort in than you think."
"I would encourage anyone to enter a weight loss challenge. The staff are friendly, helpful and encouraging. It is the best thing I have done!" 
Melinda lost 13.82kgs. That's a total of 13.5% of her total body weight!
MELINDA WATSON
8th place
Won the Revesby Workers' Club Staff Sponsorship and her confidence back
Fed up with being unhappy and embarrassed about her weight, Melinda's competitive streak kicked in. She wanted to lose weight and win.
"I have loved every aspect of the Challenge, especially getting to know all the wonderful and extremely helpful staff that work at Health Mates."
She talked to us about her personal challenges: "My biggest mental challenge was overcoming the embarrassment of being overweight and trying to exercise in the gym and in front of people I work with. My biggest physical challenge was the two-kilometre run Sonny made me do during my first boot camp!"
Melinda acknowledges that while her weight, complexion and dress size has changed – the biggest benefits are of the unseen variety, "I am becoming more confident in myself. I am even starting to like myself again."
We would like to congratulate the winners of the Weight Loss Challenge and wish them ongoing success in their future health endeavours.
Read more member testimonials here
If you'd like to nominate our next Member of the Month email your suggestion to raquels@rwc.org.au
There is no guarantee that physical exercise will achieve specific outcomes. Results will vary depending on personal commitment, genetics, nutrition and lifestyle factors.