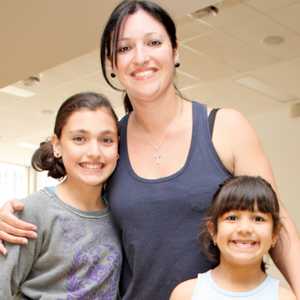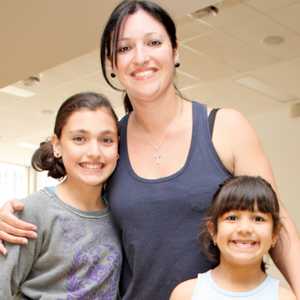 Jodie Andary, a dedicated Health Mates member, enjoys spending quality time with her daughters Chanel, Jemae and Grace every Tuesday afternoon at the Health Mates Zumba Combo class.
Zumba Combo is the ultimate fun family experience. A combination of Zumbatomic (for kids aged 5 years +) and Zumba. It features the latest music, hip-hop, reggae ton, cumbia and more. You will boost your metabolism, coordination and self-confidence without even knowing you're exercising. Fun for you and the kids!
When did you join Health Mates and why?
I joined in March 2012 as I wanted to lose weight and get fit and healthy. A lot of my friends were already members of Health Mates and had nothing but praise for the centre.
What is it that you all enjoy about Zumba Combo?
It's great! I really enjoy the family time that I can spend with my girls and the kids are staying active, which is keeping them healthy as well.
Would you recommend the Zumba Combo classes to other parents?
Yes, definitely – and I have! Zumba combo is such a great way to get fit and what better way to do it than being with the whole family?
Do you participate in any other activities at Health Mates?
I love my classes here at Health Mates. I regularly participate in Rev n' Abs, Master Blast and Stup n' Burn classes.
What do you enjoy most about your visits to Health Mates?
Since joining Health Mates I have noticed a HUGE improvement in my health. I have achieved amazing weight loss results, losing 14 kilograms to date, which I am very proud of.
Find out more about kids classes and Health Mates membership
If you'd like to nominate our next Member of the Month email your suggestion to raquels@rwc.org.au
There is no guarantee that physical exercise will achieve specific outcomes. Results will vary depending on personal commitment, genetics, nutrition and lifestyle factors.