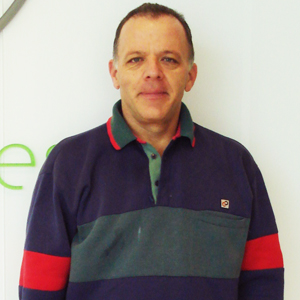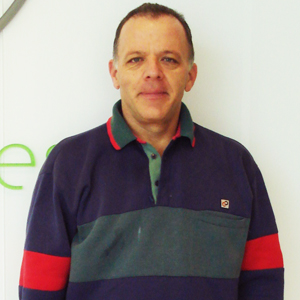 Name: Andrew Kallas
Member since: March 2014 (6 months)
Reason for joining: Weight gain due to knee injury
Top tip: Never give up, even if you stumble along the way.
How long have you been a member of Health Mates?
I joined in March 2014, so just 6 months.
What, or who, inspired you to get started at Health Mates?
My injury played a big part in motivating me to join Health Mates. I tore the meniscus in my left knee and was using a walking stick to get around. While I was waiting for the operation I put on a lot of weight and decided I needed to turn things around.
How often do you train at Health Mates and what type of training do you do when you are here?
I exercise 3 to 4 times a week and get my exercise programs written by the trainers at Health Mates every 6 weeks or so. My program is made up of weights for my total body as well as cardio. I would like to try incorporating Pilates into my program soon.
What have you achieved so far with your training at Health Mates and how has this changed your life?
So far I have lost a total of 39 kilograms and 13% body fat, not to mention added years to my life! My mindset has improved; I often think about when I was heavier which keeps me motivated to keep exercising.  My health has also improved dramatically. Before my weight loss I was pre-diabetic, my insulin resistance levels was sitting at 13 mmol/L and is now down to 4 mmol/L.  My liver had started failing, but is now back to working normal.  My cholesterol has also dropped and is in a healthy range, together with my resting heart rate which has dropped from 80 bpm to 65 bpm.
What are your goals for the future?
My initial goal is to lose another 3 kilograms, as per my doctor's recommendation. I also want to keep it off forever to make sure I am able to keep refereeing and to spend time with my children (11 and 19). I want to keep watching them grow, they are my biggest motivation.
What advice can you give someone who is in a similar position as you are?
Many people ask me how I lost the weight. It is a simple formula – hard and consistent work at the gym and healthy eating (high protein, low carb has worked for me), together with a positive mental attitude. NEVER GIVE UP, even if you stumble along the way.
If you'd like to nominate our next Member of the Month email your suggestion to raquels@rwc.org.au
There is no guarantee that physical exercise will achieve specific outcomes. Results will vary depending on personal commitment, genetics, nutrition and lifestyle factors.