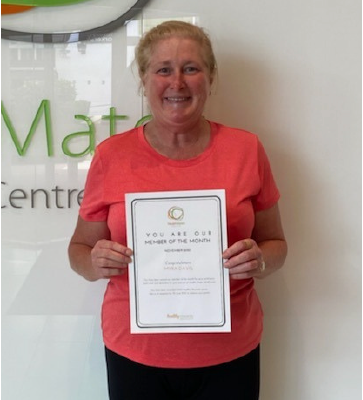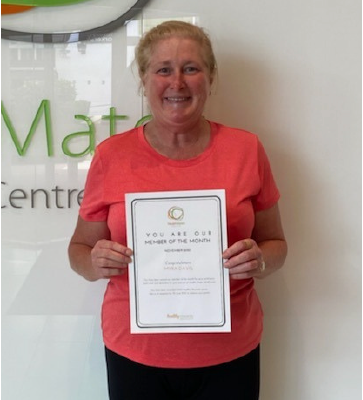 Member Of The Month – Myra Davis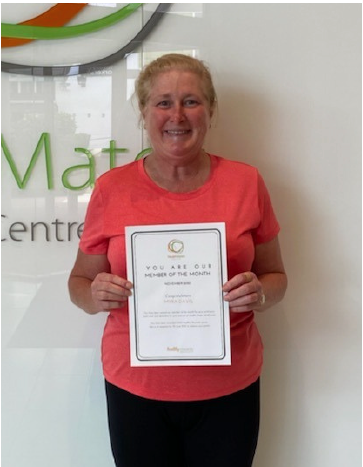 How long have you been a member at Health Mates?
Four months.
What inspired you to join and why is it important to you
Many, many years ago I used to come here and do a Rev class once per week so I know that Healthmates is super clean and the instructors are great. I'm normally an outdoors person and played competitive sport when I was younger, but multiple surgeries and arthritis stopped me from doing many of the activities I enjoyed. Rather than wallow in self-pity I decided I should focus on what I can do, so I joined the gym with the idea of getting help from the instructors to guide me.
What is your training routine and how do you stay motivated?
I regularly attend Yoga, Active Over 50's, Pilates and Stretch as well as working out on the gym floor. Being in a fun and social class setting and tips from the trainers keep me motivated. I don't want to sound like a nerd, but I want to do well so I even do every bit of the home workouts the instructors set for us. I find this really helps me progress in class.
What have you achieved so far and how has it changed your life?
I have significantly improved my physical and mental health. I feel supported by the instructors and I am truly happy when I feel supported by the instructors and I am truly happy when I work out here at Health Mates.
What are your goals for the future?
Continue to be the best person I can be health wise and keep coming to the gym. I have a parchment on the wall at home that I have had since I was a child that sets my philosophy on life – 'A smile costs nothing, but gives much' and I want to keep my positive attitude forever.
WHAT ADVICE WOULD YOU GIVE TO SOMEONE WHO IS IN A SIMILAR POSITION AS YOU WERE/ARE OR THINKING ABOUT STARTING EXERCISE?
Just do it! Be the best you can be. We're not all Olympians and I know there are others here at the gym with more challenges than myself and they inspire me. Work to your capabilities and focus on what you can do rather than what you can't. Something is always better than nothing, so don't be afraid to give things a try and reach out to the instructors for help.