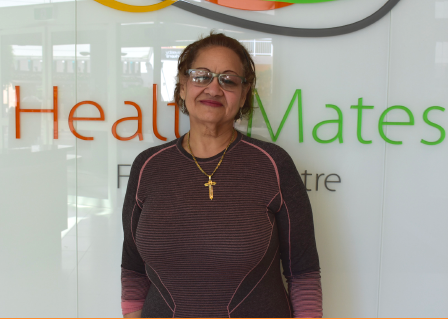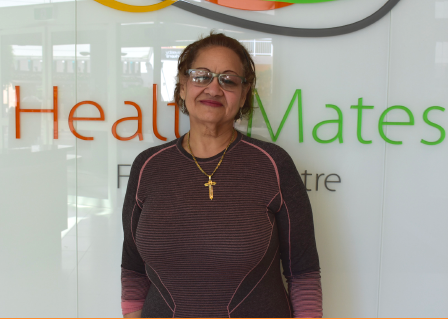 HOW LONG HAVE YOU BEEN A MEMBER OF HEALTH MATES AND WHA T INSPIRED YOU TO JOIN?
I have been a member of Health Mates for about five months now. Before becoming a member I couldn't even walk or sleep. I was 146kg and m y entire body
was struggling to cope. My doctor ordered me to lose weight before starting exercise so I started at Health Mate s when I was around 110kg.
WHY WAS THIS IMPORTANT TO YOU?
After seeing my mum have many falls, end up in a wheel chair and sadly pass away I was in spired to turn my life around. I want to build strength in my
muscles and improve my health to prevent serious health implications.
WHAT HAVE YOU ACHIEVED SO FAR, AND H OW HAS IT CHANGED Y OUR LI FE?
Since deciding to live a healthy lifestyle I have lost over 60 kg. Some people don't even recognise me when I show them old photos. Th e doctor h as
completely stopped my high blood pressure and c holesterol me d icati on and i also don't have to sleep wi t h a breathing machin e any longer. I am able to
n ow join my friends at the church for weekend long seminars, be more active with my grandchildren and my husband is much happier now that the snoring has stopped!
WHAT ARE Y OUR GOALS F OR THE FUTURE ?
I started my journey at size 26 an d I am now a size 12, I would love get to size 10 and keep getting stronger and feel ing fitter.
WHEN YOU COME INTO HEALTH MATES F OR A WORKOUT, WHAT ARE YOUR 'GO T O' EXERCISES?
I like training cardio, so I use machine s like the treadmill, bike, rower and top machine.
WHAT ADVICE CAN YOU GIVE SOMEONE WHO IS IN A SIMILAR POSITION AS YOU WERE?
Just start, just do it. Once you begin t he journey to a more healthy lifestyle you will never look back, each step has been completely life changing in every
way. Exercising at Health Mates has not only improved m y body, it has lifted my spirit.