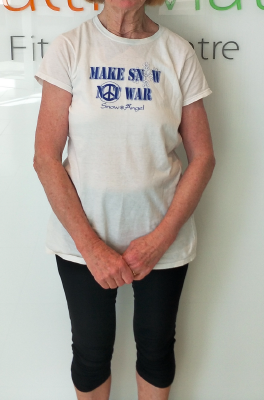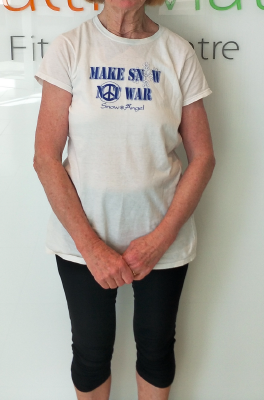 HOW LONG HAVE YOU BEEN A MEMBER OF HEALTH MATES AND WHAT INSPIRED YOU TO JOIN?
I have been a member for over thirteen years and s tarted when my first grandchild was born. I was already doing a lot of bush walking and I needed to improve on my upper body strength and posture.
WHY WAS THIS IMPORTANT TO YOU?
Walking has always been a part of my life. My love for it came from my Mum and I haven't stopped since .
WHAT HAVE YOU ACHIEVED SO FAR, AND HOW HAS IT CHANGED YOUR LIFE?
Walking has kept me fit, motivated and "on track" with my health. I t has also improved my bone strength which I think is very important. My balance has improved enormously a nd t his has hel ped a lot with avoiding falls. I have not had a fall in years!
W HAT ARE YOUR GOALS FOR THE F UTURE?
Other than walking as long as possible I would like to keep as fit, strong and mobile a s possible. I would love to do more challenging walks , cycling and skiing. To do this I will have to keep strong!
HOW H AS YOU R TRAINING H ELPED WITH YOUR LO NG DISTANCE WALKING/BIK E RIDING?
A split program has hel ped me stay motivated to exercise. It has changed my frame of mind from being bored to loving my workouts.
TELL US ABOUT YOUR OVERSEAS TREK AND THE CHARITY RUNS/BIKE RIDES YO U DO REGULARLY, WHAT INSPIRES YOU TO DO THEM AND WHAT CHARITIES HAVE YOU SUPPORTED?
I have been attending charity walks overseas since 1987. Last year I completed a 6 week bike ride in Italy and I have just completed a 7 week trek in the United Kingdom. I also take part in charity rides for The Sprint Cycle group to raise money for disabled children in need of s pecialised bikes.
WHAT ADVICE CAN YOU GIVE SOMEONE WHO IS IN A SIMILAR POSITION AS YOU WERE?
If you feel like giving up, talk to staff at Health Mates and book in for a pro gram which will be cr ea t ed for your indi vidual needs. I love that the staff gave me advice  which suited my goals.